Telephone 020 3813 2890 for a free no obligation chat about your regulatory requirements with one of our compliance consultants.
© Compound Growth Limited 2012 - 2020 | Terms of Use Privacy Policy
Registered in England and Wales as limited company number 07626537 - Registered Office 120 Pall Mall, London, SW1Y 5EA

We use cookies, if you consent to this use, please continue to browse our site.


Here to help with Regulation and Compliance

Culture & Governance: More than Regulatory Buzzwords
17th November 2015
In recent years 'culture' and 'governance' seem to have almost become the new go to regulatory buzzwords. And so it was again last week, that they found themselves in the regulatory spotlight, with the most intense light cast upon what is meant by culture.
Speaking at the MetricStream Governance, Research and Compliance Summit, Mark Steward – the recently appointed Director of Enforcement and Market Oversight at the FCA, placed emphasis on the need for firms to actively create an environment of positive corporate culture – something that regulation alone cannot achieve.
What is culture?
With a large amount of regulatory focus in recent times having been placed upon 'creating the right culture' both within firms and in the wider market, Mr Steward advised there is a danger it will start to be seen as "merely regulatory" – something that needs to be avoided.
Culture is an "ideal" that whilst it encompasses regulatory compliance, fair process and good governance, it is also something conceptual - composed of standards, principles and moral values – both difficult to pinpoint, yet with incredible intrinsic value in creating compliance, integrity and confidence within financial markets.
Whilst the regulator understands that they are able to set rules and standards that "describe the expectations and set the boundaries... alone they cannot create the environment in which good governance, regulatory compliance and fair process magically appear". Rules and standards only go so far towards creating an ideal, as they do not determine the actual decisions and actions made by those within the markets, thus "more is needed".
What else is needed for creating culture?
Mr Steward advised in his speech that the additional ingredients for creating culture, whilst not exhaustive, would include:
Firm's management having a detailed understanding of the nature of the business and how each area is managed and operated;

Having effective systems and controls designed, implemented and maintained to ensure the business is operating in accordance with standards of conduct as set by the firm's senior management

Undertaking risk-focused audits from the cynic's perspective – one that is counter-intuitive and that looks for the gaps in the systems and controls that could be exploited.
In addition, whilst the above are prudent, manageable and ascertainable actions that can lead to having a good culture, a firm needs to try and instil behavioural values within its business to complement these, such as:
Having an interest in execution: being able to think through what is needed and to actually perform it;

Having a sense of not only what should be done, but a compulsion to set about doing it; and

Having an ability to lead and to engender leadership across the business organisation.
From the pointers raised in Mark Steward's speech, the role of senior management in creating cultural change is clear and again echoes those aims that new Senior Managers and Certification Regimes are set create within the industry.
Can culture be measured?
Whilst the regulator understands it is difficult to measure if a good culture exists within your firm, a poor culture can be easily spotted such as when things go wrong and worsen or if things repeatedly go wrong.
To assist firms in determining if a poor culture exists, Mr Steward proposes that firms should ask themselves the following key questions:
How quickly does it take for problems to escalate to the right person or group of persons for effective decision making or action?

How many problems linger in the in-box or the draft box or the bottom drawer beyond their easily flexible date?

How difficult is it to fix things once they are detected?
Further Reading:

Culture & Governance: More than Regulation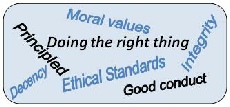 "The benefits of nipping things in the bud, especially where there is or may be a misconduct issue, are real and tangible ones: but the balance is a delicate one – missing the opportunity and allowing a problem to grow unchecked will erode confidence far more quickly than it can ever be engendered. This is why an organisation's culture is so important."
Mark Steward, Director of Enforcement & Market Oversight, FCA, 11 November 2015
Support in Creating Positive Corporate Culture:
As indicated from Mr Steward's speech, having a good risk culture within your firm, should make your business and those within it, not only more responsive and compliant, but also more effective and efficient.
With the Senior Managers Regime and Certification regime set to apply to Banks from next March and the Government having recently announced an extension of these regimes to cover all regulated firms from 2018, firms should be paying close attention to their firm's culture and governance.
If you would like assistance in preparing for the new regimes and creating a cultural change within your firm, including enhancing your firm's risk and control frameworks please get in touch with our experienced regulatory consultants who would be happy to help.